Do you need a dynamic speaker on global management, cross-cultural awareness, workforce diversity and cultural intelligence for your business leaders, management team, cross-border work group or professional association?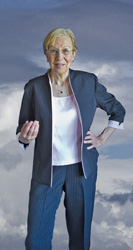 Karine Schomer, Ph.D. is a global cross-cultural management expert who specializes in speaking to groups whose members work and manage in global companies, or in companies with a multicultural and international workforce.
She has lived and worked internationally, is multilingual, and has been professionally involved with India for over 25 years.
She gives keynotes, workshop presentations and onsite talks for corporate groups and professional associations, on cultural awareness as a business effectiveness skill, differences in business cultures, managing in the global workplace, intercultural communication, and how to build teams across cultures, especially in the offshore outsourcing context.
She is a speaker who knows how to stimulate, educate, entertain and engage listeners. Audiences leave with fresh perspectives, useful insights, practical tips, and ideas they can immediately implement to improve their cross-cultural effectiveness as global operations leaders, managers and members of global multicultural teams.
More information:
For more information on booking Dr. Karine Schomer as a speaker for your event: call 510-525-9222, write to speaking@indiapractice.com, or describe your needs by filling our "Contact The India Practice" form.